Hugh Godfrey Maturin Williamson
(1947 -, British)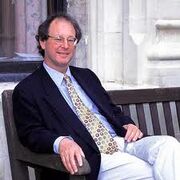 Current Regius professor of Hebrew at University of Oxford since 1992.
He has done substantial work on Deotero-Isaiah, Ezra/Nehemiah and Biblical Hebrew in general. Author of the International Critical Commentaries series on Isaiah 1-27 (first volume published 2006).
Most important works: The Book Called Isaiah: Deutero-Isaiah's role in Composition and Redaction (OUP 1994); arguing that Deutero-Isaiah had substantial influence on the composition and redaction of Isaiah 1-39, and that DI saw his own work as "an integral continuation of the work of Isaiah" (p.113).  Ezra and Nehemiah (Word Biblical Commentary 1985) is still an important work and tackles textual, literary and theological issues, along with the question of the historical problems of the books.
Community content is available under
CC-BY-SA
unless otherwise noted.