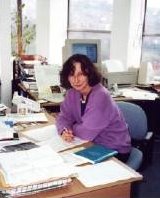 J. Cheryl Exum (1946- ) Wake Forest University; PhD, Columbia UniversityEdit
Cheryl Exum is Emeritus Professor in the Department of Biblical Studies at the University of Sheffield. She began her tenure at Sheffield in 1993, before which she taught at Boston College. Exum is a major figure in modern literary criticism and feminist interpretation of the Hebrew Bible. She, along with Mark Brett, was one of the first executive editors of the journal Biblical Interpretation, which focuses on contemporary approaches to biblical scholarship. She is also an editor at Sheffield Phoenix Press.
Exum has focused on gender and cultural issues in the Hebrew Bible, and has a special interest in the Song of Songs and ancient love poetry. Her works include Tragedy and Biblical Narrative: Arrows of the Almighty (1992), her major work in literary criticism; Fragmented Women: Feminist (Sub)versions of Biblical Narratives (1993); Plotted, Shot and Painted: Cultural Representations of Biblical Women (1996); a Song of Songs commentary for OTL (2005); as well as numerous articles.
Community content is available under
CC-BY-SA
unless otherwise noted.