James A. Sanders (b. 1927) is an American scholar of the Hebrew Bible. He taught at Union Theological Seminary in New York and at the Claremont School of Theology in California. He retired in the late 1990's but continues to publish and lecture and does some teaching at the Episcopal Theological School at Claremont.
Sanders has published extensively on the idea of canon and is, along with Brevard Childs, a leading proponent of canonical criticism. He is also known for his work on the Dead Sea Scrolls. He served as a Dead Sea Scrolls editor and was the first to translate the Psalm Scroll.
In 1978 Sanders founded the Ancient Biblical Manuscript Center (ABMC). His involvement played a role in Dead Sea Scrolls history when he had a big falling out with Elizabeth Hay Bechtel, a wealthy benefactor of the both Center and Dead Sea Scrolls research. Bechtel withdrew her support of the center and took a copy of its Dead Sea Scrolls photographs (which she helped pay for) with her. She donated them to the Hunington Library and in 1991 its director, William Moffett, announced he would allow anyone who wished to see the photographs, effectively ending the DSS editors' exclusive control over the scrolls. Sanders and others made attempts to get the photographs back but were unsuccessful.
His works include:
Torah and Canon (1972; 2d ed. 2005)
Canon and Community: A Guide to Canonical Criticism (1984)
The Dead Sea Scrolls after Forty Years (co-author; 1991)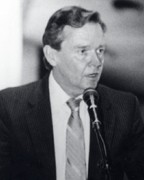 The Canon Debate (co-editor; 2002)
Community content is available under
CC-BY-SA
unless otherwise noted.