Tikva Frymer-Kensky (1943-2006), A.B. in ancient world studies, City College of New York; B.H.L in Bible-Talmud; Jewish Theological Seminary; M.A. in West Semitics, Yale University; PhD. in Assyriology and Sumerology, Yale UniversityEdit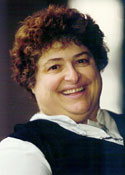 Tikva Frymer-Kensky was Professor of Hebrew Bible and the History of Judaism in the University of Chicago's Divinity School. Before coming to Chicago in 1995, Frymer-Kensky served as director of biblical studies at Reconstructionist Rabbinical College in Wyncote, Penn., and assistant professor of Near Eastern studies at Wayne State University in Detroit. She was also a visiting professor at the Jewish Theological Seminary, the University of Michigan, Ben Gurion University and McMaster University. Frymer-Kensky's research interests included Assyriology, Sumerology, biblical studies and Jewish studies, but was perhaps best known for her work on women and religion. Books in this last area include Reading the Women of the Bible, which received a Koret Jewish Book Award in 2002 and a National Jewish Book Award in 2003; and In the Wake of the Goddesses: Women, Culture and the Biblical Transformation of Pagan Myth. In 2006, the Jewish Publication Society published a collection of her articles, Studies in Bible and Feminist Criticism, in their Scholars of Distinction Series, making her the first woman to be included in the series. 
Community content is available under
CC-BY-SA
unless otherwise noted.